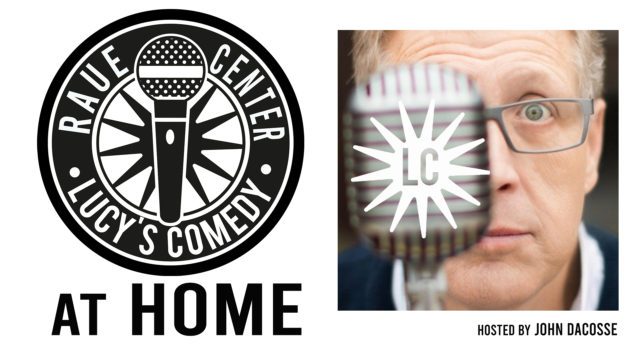 Home is where the laughs are with Raue Center's new comedy program Lucy's Comedy At Home!
–by John DaCosse
"Unprecedented times" is a phrase that we hear almost every day in our lives. In close to 40 years of performing in hundreds of comedy clubs across the country with names like Funnybones, Improv, Laugh Factory and Chicago's very own Zanies, "unprecedented times" might be the name given to a new club if it opened today.
All of these venues have been closed since early March and a few are slowly trying to open with very limited numbers of patrons in an attempt to bring back some semblance of normalcy. Lucy's Cafe at the Raue Center has been around for almost 15 years as a once a month, on stage intimate stand up show, bringing some of the best comics into Crystal Lake for an evening of laughter. I have been booking these shows (hence the curator title) for quite a long time. I now realize I took these shows for granted until the Raue Center decided comedy and a chance to laugh was important and in June of this year started "Lucy's at Home".
Lucy's at Home showcases comedians in weekly shows, performing on the main stage in a safe and sanitized environment with a small but very loyal crowd using 4 cameras recording the stand-up show for people at home.
I was skeptical at first, not really sure this was going to work and because of the small but justified budget, I thought it would be very difficult to get comedians to come all the way out to Crystal Lake to perform a 15 to 20-minute set in a 750-seat capacity theater for a small, socially distanced mask-wearing audience. I have NEVER been so wrong!!
Since June, Lucy's at Home has seen close to 50 stand-up comedians perform on a weekly basis and every comic that walks on this stage cannot begin to thank the Raue enough for supplying them with a chance to do what they love to do! I have well over 250 emails from comedians who want to get their chance to get back on stage. Veteran comedians like myself have never gone more than one to two weeks without performing and when you go 4 to 5 months without a show you realize it's not just a job, it's what we love to do!
The best part for me is I have had the opportunity to meet so many comedians who have only been performing for a few years. They find it so difficult to get booked and seen in an actual mainstream comedy club and now they come to the Raue and blow me away with the amount of talent that I never knew existed in the Chicago land area. Stand-up comedy always gets more popular when times are tough and 2020 will go down as one of the toughest. But the collaboration of the Raue Center, Lucy's at Home, the patrons of this gem of a theater, and both the young and established stand-up comics that perform here, have truly made this "Unprecedented Times"!!
Lucy's Comedy At Home tapes every Wednesday's @ 7:00 pm. To reserve your spot to be a live studio member call Raue Box Office at 815.356.9212. Lucy's At Home is available to view at home for RaueNOW Members every Thursday @ 8pm. For more information visit rauecenter.org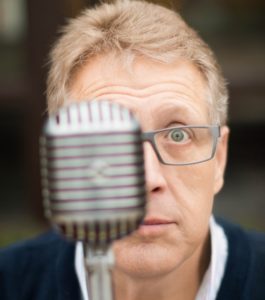 Radio personality, John DaCosse, curates Lucy's Comedy at Raue Center For The Arts in Crystal Lake, IL. During his 30+ years in stand-up comedy, the brilliant John DaCosse has developed a solid reputation nationwide. He has opened for big names like Ellen DeGeneres, George Lopez, Craig Ferguson, and Billy Gardell. John has appeared on NBC, Comedy Central and TBS. Mr. DaCosse has also served as an audience warm-up for Rosie O'Donnell and The Oprah Winfrey Show.