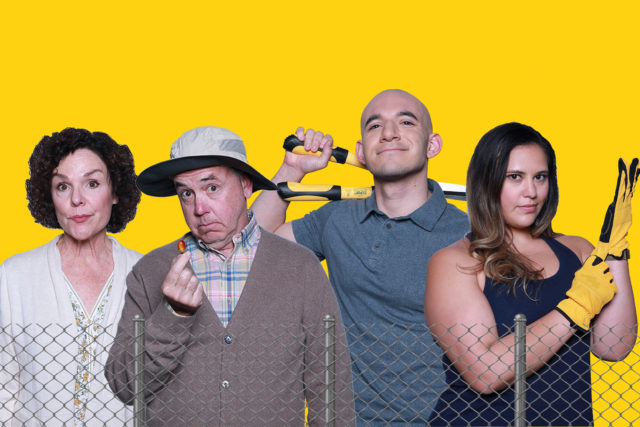 The grass isn't always greener on the other side.
Williams Street Repertory, Raue Center's in-house professional theatre company (the only professional theater company in McHenry County), brings a hilarious comedy of good intentions and bad manners to the stage in downtown Crystal Lake this spring. WSRep's "Native Gardens" opens on March 27, 2020 and runs select dates through May 9, 2020 at Raue Center For The Arts.
"Native Gardens," a celebrated comedy from playwright Karen Zacarias, was featured on American Theatre's Top Ten list of the most-produced plays of the 2018-2019 season and has been produced all over the country.
The show follows two sets of couples who live beside each other in a lush, historic D.C. neighborhood. Frank and Virginia Butley are an older white couple whose son has aged and moved out of the house they've lived in for decades. Frank spends most of his free time manicuring his perfect English garden, a pastime he hopes will relieve his chronic stress and win him an award from the Potomac Horticultural Society.
New next door are Tania and Pablo Del Valle, a Latinx couple in their early 30s. They're expecting their first child and have big plans for their fixer-upper, including a "native garden" featuring indigenous plants. Tania, a Ph.D. candidate in the thick of her doctoral dissertation in anthropology, is very passionate about her plans for the native garden.
"I am interested in origins," Tania explains in the play, "and when we claim them and when we stop." Tania's husband, Pablo, is a lawyer with dreams of making partner at his new firm—an ambition that leads him to invite his entire 60-person firm to their not-yet-fixed-up fixer upper. And then there's the fence…
When a questionable fence line puts a prize-worthy garden in jeopardy, neighborly rivalry escalates into an all-out border dispute, challenging everyone's notions of race, privilege, class and good taste.
Director Michele Vazquez is excited to bring the timely show to life in downtown Crystal Lake. "These are particularly divisive times," explains Vazquez. "Social media, for all its usefulness, comes with costs. The less we communicate face-to-face, the less we hone the skills of listening, showing compassion and the art of compromise."
Gardens and cultures clash, turning friendly neighbors into feuding enemies in this hilarious comedy of good intentions and bad manners. Vazquez also shares that this timely comedy brings uncomfortable – but necessary – conversations into the spotlight.
"What I love and appreciate about this play is that it is the sugar that makes the medicine go down," shares Vazquez. "We need to let go of our constant outrage so we can come together and get things done. I think this play beautifully captures that dynamic," she continues. "No one is the villain, but there are also no saints. The characters are wonderfully flawed, and as a result, a lot of hilarity ensues."
WSRep has assembled a cast including Steve McDonagh* (Frank); Shannon Mayhall (Virginia); Alec Coles Perez (Pablo); Juanita Andersen (Tania); and Amy Delgado (Ensemble); Steve A. Munro (Ensemble); Jeanne Scurek (Ensemble) and Mark Tacderas (Ensemble).
"I am really excited about this cast. We have some familiar favorites returning, paired with new exciting talent. It is a fantastic mix," says Vazquez.


WSRep's production of "Native Gardens" opens March 27, 2020 and runs select dates through May 9, 2020 at Raue Center. For more information, please visit rauecenter.org.