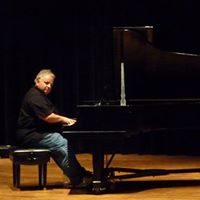 Raue Center For The Arts is proud to host local talent free of charge to the community from 5-7 p.m. Wednesdays and Thursdays at Raue Center Café!
Dedicated to realizing its mission of "arts for all," Raue Center welcomes artists to hone their skills in a warm, cozy atmosphere while patrons are free to indulge in a selection of beverages from the café bar.
Get to know one of the Raue Center Café's regular performers, Rick Cornwall, with a Q&A!
How did you get started in music and how long have you been performing?
During the days, I've been a self employed piano tuner for 51 years and have worked on the Player-Piano systems since 1995. I began servicing and playing piano in Minnesota in 1968. I had already played the violin for five years and sang in choirs, but when I started learning chords I was able to start playing rock-n-roll, which was my interest at that time. I received a vox organ and an amplifier on a Monday and by Friday I was playing with a rock band at a local junior high dance. After that, I became a singer and continued playing keyboards as much as possible. I began writing songs almost immediately and continued to play full time, with as many as 265 shows a year, until the mid '80s. In 2000, I began playing at church services and conventions, and I've continued to play, run sound and DJ events ever since.
How would you describe your music?
I've written well over 200 songs with many different styles. Obviously rock-n-roll, along with some love songs, some sad songs, some funny songs, a lot of Christian songs and also a number of country songs.
What has had the biggest influence on your music/inspired you?
Many of the songs I write are very personal and have an emotional feel to what is happening.
I had a very rough year and wrote several songs about it. I had a very rough year and lost my recording studio, and everything personal including my house, in a fire in October, and have written several songs about it.
My music has since returned to being the focal point of my life as I have recently purchased new items and begun recording again. My most recent song explains my life: "In the last year that I've been alive I've lost most everything, so very little left in life except play piano when I sing." Music is also what calms my soul and allows me to connect with others as well. Being closer to God is important as well.
What can audiences expect from your performances at the Raue Center Café?
By attending one of the shows I play, the audience will be given the chance to hear a lot of different songs and experience the emotions I share. The event is about being together and reacting to the music and conversations. There are chances to laugh, cry and connect to everyone who's there. It's a time to enjoy and understand life.    
Catch Rick Cornwall's next performance at the Raue Center Café from 5 – 7 p.m. on July 17, 2019! To learn more about Raue Center's café programming, visit rauecenter.org.