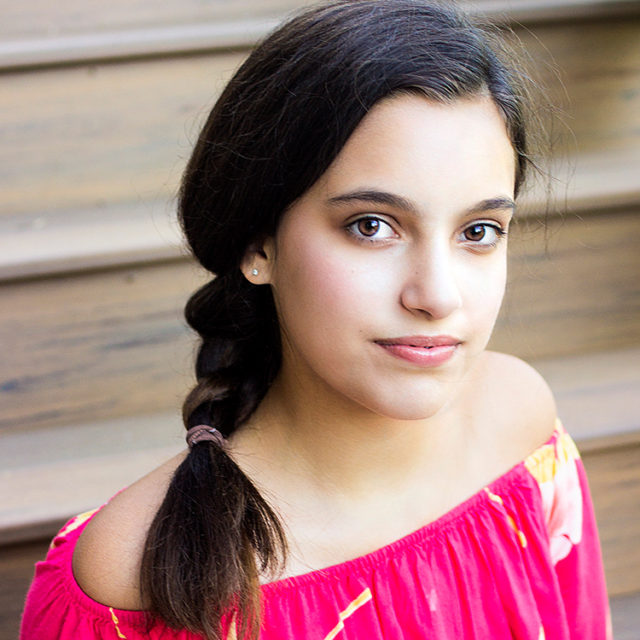 Sage Studio students are able to gain the experience, confidence and knowledge needed to go on to audition for professional shows, including those produced by WSRep. One of these students is Mya Berg, an eighth grader at Hannah Beardsley Middle School in Crystal Lake.

"I've taken classes at Sage Studio since I was nine," says 13-year-old Berg, whose favorite class to date has been the Junior Musical Theatre Workshop. "I have learned about spacing, improv, how to prepare and perform a monologue and how to audition," she shares.

The performance fundamentals taught in Sage Studio classes have aided Berg on stage, providing her with the experience, confidence and knowledge needed to land roles in both middle school and professional productions.

"My interest was sparked by the great feeling I had on stage in North Elementary School's fifth grade musical as the Queen of the High Seas," she says. "From there, I auditioned for 'Gypsy' with WSRep and was cast as Baby June. I'll never forget this role because I was only 10, and I got to be on the big stage, all mic'd up and became friends with a fun cast!"

Berg has since been cast in her second production with the professional theatre company, this time as a member of the ensemble for WSRep's "Emma! A Pop Musical," which opens March 29th and runs select dates through April 20th at Raue Center.

"I absolutely love the director Robin [M. Hughes] and the other cast members of 'Emma,'" says Berg, who gave up a spring break family vacation to participate in the production. "Since the cast is full of professionals, it has moved at a much faster pace than I'm used to. The show is upbeat with fun songs and some really fast dancing," she continues. "It's challenging, but the cast has been so supportive and encouraging of me, which makes me happy."

In addition to taking on a role in a professional production at just 13, Berg is tackling a lead role in her school's production of Disney Jr.'s "High School Musical" simultaneously.

"I'm so excited to get to play the role of Gabriella. It's super fun. We rehearse every day after school and the middle school puts on a really good performance," says Berg. "It's so much fun to work with the cast and directors and I can't wait for my friends and family to see the show."

Hannah Beardsley's production of Disney Jr.'s "High School Musical" runs April 12th and 13th, overlapping with WSRep's "Emma! A Pop Musical." This makes for a very hectic schedule for the young actress.

"It's very stressful," Berg says with a laugh when asked about being part of two overlapping productions. "Rehearsing for one show is stressful, and doing two certainly adds to it." Berg has "High School Musical" rehearsal directly after school from 2:15 to about 4 or 5 p.m., and rehearsal for "Emma!" from 6:30 to 9:30 p.m., leaving her a small window to go home, do her homework and eat dinner in between. "By the time I get home, I'm tired!"

She takes her role in both productions very seriously. "Being in the cast, you really want to do well," says Berg. "You want to be a team player and not let anyone down, whether you're a part of the ensemble or a leading role. My parents remind me all roles are important."

Berg's experience in Sage Studio has taught her valuable lessons that apply offstage as well, including learning how to talk to others, build confidence, maturely handle disappointment and persevere. "My parents always say 'you don't always get what you want,' but recently, I have learned more than ever, that hard work and perseverance pays off."

Audiences can see Berg in Hannah Beardsley Middle School's production of Disney Jr.'s "High School Musical" on April 12th & 13th and in WSRep's production of "Emma! A Pop Musical," March 29th through April 20th at Raue Center. rauecenter.org