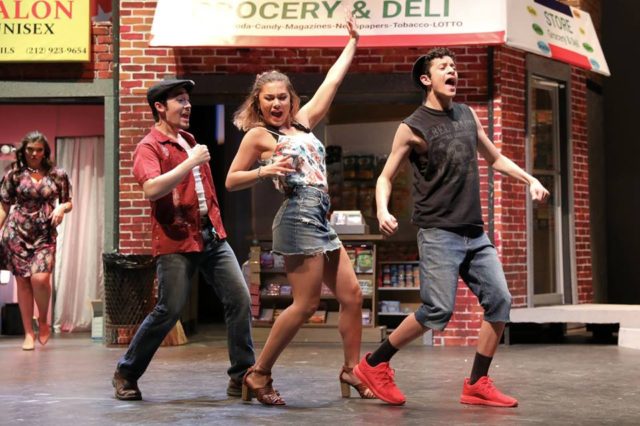 March 3, 2019
Submitted by Steven Szalaj

There are so, so many of our McHenry County youth that invest considerable time and energy in pursuit of the arts. In this story we celebrate the achievement of Nathan Ancheta, a Cary-Grove High School senior. This past January, Nathan was selected from a state-wide audition to have a lead role in IHSA All-State Theater production of the musical In The Heights, (music and lyrics by Lin-Manuel Miranda and book by Quiara Alegría Hudes). The rehearsals and production took place this past January at the University of Illinois in Champaign. What a tremendous honor for Nathan!
I interviewed Nathan about the whole experience, from the audition through the performances and beyond. He has some really great things to say! His words tell the story better than any I could write.
How you were selected?
I auditioned in June of 2018, which was the summer leading into my Senior year. I chose the rap section from Macklemore and Ryan Lewis' Can't Hold Us for my initial audition. From that audition, I was selected to return for a "call back" audition about a week or so later. I was emailed packets of music to prepare for the character of Usnavi. During this second audition/call back I was asked to do a couple of raps selections from In the Heights and sang a duet with the girls who were called back for the character of Vanessa. There was a semi-awkward moment in this process when I was asked to perform my audition material in the same room as the other guys being considered for the same role of Usnavi.
How did you prepare for the production before you went?
We rehearsed at Maine East High School once a month, usually three- or four-day weekends, but we did rehearse twice in August. At the rehearsals, we learned music and blocking. The rehearsal days were mostly twelve-hour days with lunch and dinner provided. I am lucky enough to have great support at home and parents that assisted me when I was between rehearsal dates. They made sure I was on top of my lines and my voice teacher, Michelle Hackman, made sure my music was tight. It was pretty taxing having twelve-hour days, but I do love performing and the All-State directing staff was incredible to work with. Knowing the production was going to be unforgettable helped keep my energy level high. I also want to give a shout out to a family that housed me during the long weekends. Staying at their home which was close to Maine East kept me from getting worn out from a long commute. Thank you to the William's Family.
What were the rehearsals like? Compare them to your typical rehearsals at CGHS.
The process was very different from Cary-Grove, partly because we were all from different schools and were used to learning and practicing in different ways, but also because the rehearsal periods had tight agendas packed a lot into these rehearsal weekends. The agenda was constantly changing due to how fast or slow we moved through learning the material. If cast members returned after a month away and really knew their stuff, we could progress faster than originally planned. For Cary-Grove our rehearsal period runs weekly and consecutively without big breaks of time between rehearsals. This continues from January to mid-March when we open the show. We have a call board that details the production number or scenes we will be working on that day and we follow it until completed. The leads for All-State had to juggle being in costumes, blocking leads scenes, and keeping up with the dances during these long rehearsal days. At times this made the process a little more difficult, but everyone worked hard to get the job done. With CG musicals our time table and rehearsals are consistent and spread out over a longer period. Due to this schedule and working with the material without extended breaks it is easier to retain everything.
How many performances were there? What theater was used?
There were five performances over the span of 3 days, Thursday, Friday and Saturday We performed on the main stage of the Krannert Center at the University of Illinois.
How did the performances compare to those at CGHS?
It's hard to compare the two in all honesty. Both are equally wonderful and yet different experiences. The All-State performance is held during Theater Fest so the audiences were pretty much always ramped up. That combined with the fact that the audience is filled with a bunch of teenaged musical theater geeks, makes for a once in a lifetime experience. At Cary-Grove there is a sense of home and familiarity with those who are on stage, along with tremendous community support. But when it comes to the performances at my school I am a student first; working with other incredibly talented students to make something that our community can be proud of. In contrast, during the All-State experience, I was a few hours from home and it gave me a chance to immerse myself. It gave me a glimpse of what it will be like doing musical theater as a career. It was also an opportunity to showcase myself with peers and for college representatives.
Who were your directors there, and what can you say about them?
The All-State staff was incredible. From the producers, Karen Hall and Ryan Lambert to the technicians, all were incredibly dedicated to the production. The director Susan Gorman, along with Nikki Lazzaretto, choreographer, Tom Vendafreddo, music director, Matthew Koehlinger, assistant music director, and Pam Holt, pit director/conductor – all came together to make an incredible ensemble and band that could accurately portray the difficult music in this show. I was not familiar with Susan's directing style because it was a different blocking method than I am used to during Cary-Grove's productions. In the end the technical work, paired with some in-depth character analysis, really helped me grow as a performer.
What were the other cast members like, and where did they come from?
The cast was incredibly diverse. There were kids from all over Illinois. Honestly, there were so many and even from McHenry, as well an ensemble member from Crystal Lake South Gabrielle (Gabby) Urbina, along with Olivia Farley who did sound. Here's the complete list.
I was really blessed to work with such an incredible cast. It wasn't too far into the rehearsal process that they became my family and it made for an even more meaningful experience when the time came to perform the show. There were times when cast members got sick and all of us had our own little remedies for taking care of them. Everyone was extremely friendly and we all got along very well. We worked hard, but we also had a lot of fun. The interns from U of I shared some awesome games and really helped us connect with each other, but along with the games we all bonded over our love of music theater. Coincidentally, all the seniors in the cast were also doing their college searches around the same time so we helped each other work through finding monologues and getting signed up for auditions. It was really helpful for me because I will be majoring in Musical Theater.
Share anything else you think would help people understand what an awesome experience this was for you.
There was a fun improv/freestyle rap game we played and I didn't realize how awesome everyone was at improv rapping!
There are truly no words to explain the feeling you have as the roaring voices flood over you during the curtain call of each show. It's then that you feel like you have truly done a good job.
On closing night, after the final song, when Usnavi tells the audience that he is staying In the Heights because the barrio is home for him, I realized that the stage is home for me in my life. No matter where I go in the future, as long as there is an audience willing to listen to the stories I get to tell, then I will be home. All-State was not only an opportunity to do what I love but I also learned more about the gifts I have to offer the world.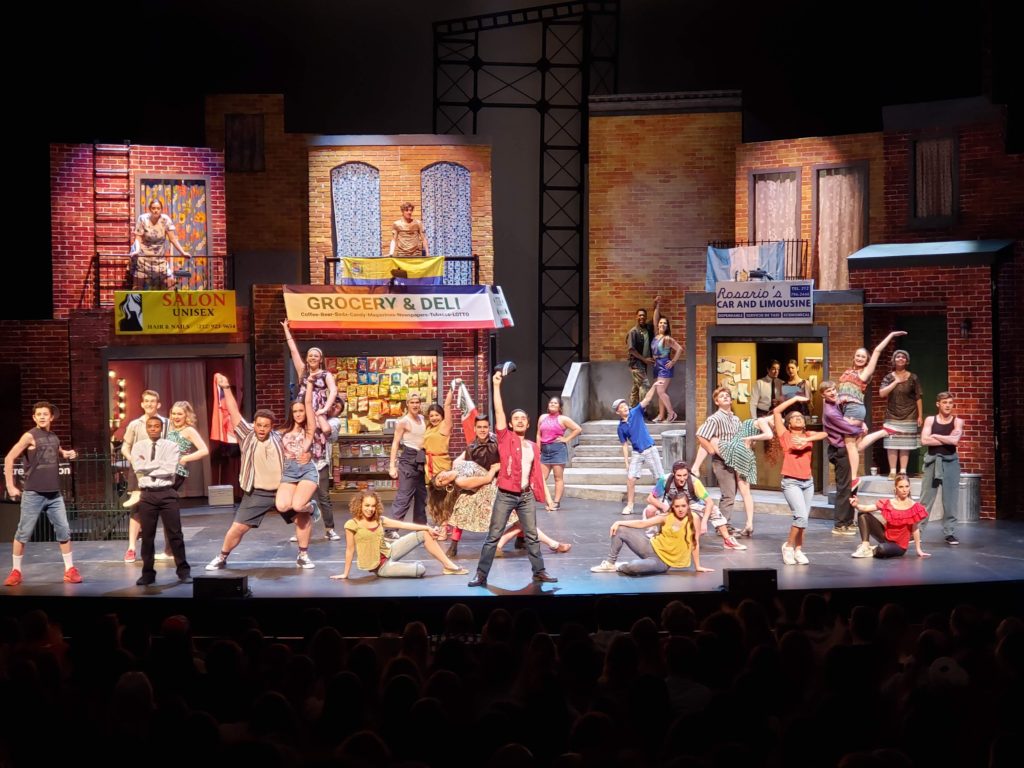 I'm sure you'll agree that this was terrific experience for Nathan and a great honor. The music staff at Cary-Grove High School, Nathan's family, his voice teacher Michelle Hackman and the production staff of IHSA All-State Theater are to be commended for making this happen.