Children and adults alike will be mystified, dazzled and bamboozled by tricks, illusions and more as "Nothin' Up My Sleeve" celebrates 16 years of family magic fun on November 2 at Raue Center For The Arts!
This family-friendly magic show hosted by Glenn Chelius and Nino Cruz will be filled with fun for the whole family! "Nothin' Up My Sleeve" will once again bring some of the finest magic, juggling and comedy entertainment to the stage – this time with a spooktacular twist!
Co-hosts and producers Chelius and Cruz will open the show with a Halloween trick and kids of all ages are encouraged (but not required) to wear their Halloween costumes! (Nothing too scary, please!) "Nothin' Up My Sleeve" will be filled with family-friendly tricks and treats, with performances from: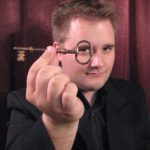 JOE DIAMOND – Joe Diamond got his start in show business at the age of 15, performing at the second annual "Nothin' Up My Sleeve," while studying magic under host and co-producer Nino Cruz! Now, at the age of 30, Diamond has gone on to host a weekly show at the historic Dole Mansion in Crystal Lake. "The 13th Hour" is currently the number one show in the area on TripAdvisor and won The Best of the Fox in the "Live Theater" and "Just For Fun/Group Activity" categories. Diamond has been hailed as "McHenry County's Favorite Mystic" by McHenry Homes & Lifestyle and "An Entertainment Legend in the Making" by the Northwest Herald. He has also been featured on WGN News, WCIU, The Movie Channel, Netflix and Showtime.
JEFF BIBIK – Jeff Bibik is a full time professional entertainer with over 30 years of performing experience! He performed his first show at the age of nine and has performed thousands of shows since. Bibik has toured throughout the U.S., performing at schools, amusement parks, resorts, festivals, comedy clubs as well as shows aboard cruise ships and on television! He is always in great demand to entertain with his award-winning shows and is highly regarded in the magic industry as a lecturer, author, performer and inventor of magical effects. Bibik has won numerous awards and has consulted on effects for theater, movies and ad campaigns.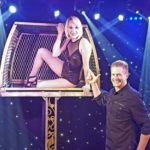 TRISTAN CRIST – Tristan Crist is the owner and namesake of the Tristan Crist Magic Theatre in Lake Geneva. He began his career as a professional magician at the Circus World Museum in the Wisconsin Dells, where he worked for 10 years to grow the show from a circus ring to a 400 seat theater. Crist then took his show on the road, performing annually at Circus Circus in Las Vegas. He now brings incredible world-class magic, comedy and illusions to audiences at the Tristan Crist Magic Theatre year-round.
CHRIS GRAN – Chris Gran, otherwise known as "GranMan," developed a love of circus arts as young child. Having those skills over the years, he now happily spends much of his time sharing them with audiences around the Midwest. He has been part of the Triton Circus for 13 years, performing as a juggler, clown and balancing act. He has traveled the Midwest co-hosting a children's game show at fairs and festivals while still finding time to perform for corporate and private events doing both juggling and magic. Gran has also juggled in the Carol Stream Independence Day Parade and entertained guests at Santa's Village in East Dundee.
Audiences should be sure to arrive early to experience all the tricks and treats! Doors will open at 6 p.m. and the evening will commence with close-up magic in the lobby before moving to the main stage.
Tickets start at $17 and proceeds of this magic variety show will benefit Raue Center. For more information, visit rauecenter.org.