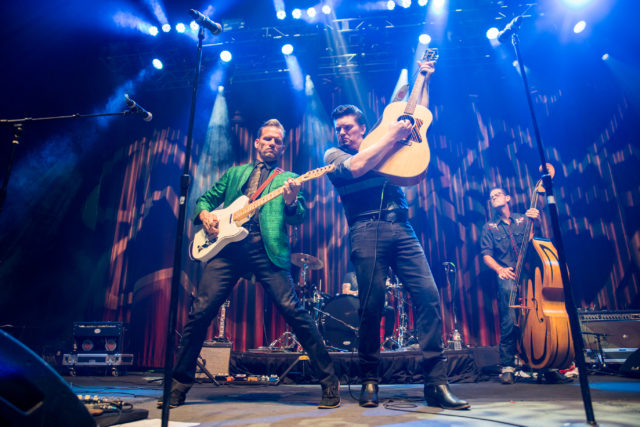 Do you remember listening to your favorite vinyl records around Christmas? Ben Hale's "Hi-Fi Holidays" brings an unforgettable evening of classic holiday Americana to Raue Center For The Arts on December 7!
"Million Dollar Quartet" alum Hale has spent the last 10 years performing to sold-out houses across the United States and Canada. Hale "got bit by the performing bug" early, growing up around theater and rock-n-roll.
"My grandparents were employed playwrights for Samuel French during the Depression and opened a couple of community theaters," says Hale, whose parents went on to run a theater as well. "I was also always inspired by my dad," he continues. "He was a rock-n-roll singer in the '80s and had a couple of music videos on MTV. He inspired me to learn to sing, play and instrument and write my own material."
Although he is now a successful singer, musician and performer, Hale was surprisingly shy as a child and preferred to be behind the scenes, running lights and sound at his parents' theater as a teenager.
"I have always loved performing but I finally got out of my shy phase when I was around 18," he says. "It took a couple years of practicing guitar and singing in high school choirs to build up the confidence to sing on my own." Hale was always working on improving his craft, and though he experienced setbacks and disappointments early in his career, he persisted.
"While I was in college, one of my professors told me to audition for 'Phantom of the Opera' in Las Vegas," says Hale. "I decided to give it a go after I was certain I was prepared as possible for the audition," he continues. Hale's preparation paid off, and he began his first professional gig performing as a Raoul understudy/swing. "I landed a job with that company and the doors to my career swung wide open."
Hale performed in "Phantom the Las Vegas Spectacular" for over six years and over 3,000 performances, working with Broadway royalty including Hal Prince, Andrew Lloyd Webber, and Gillian Lynne. He then went on to perform the principal role of Johnny Cash in the Las Vegas production of "Million Dollar Quartet" for two years before performing the role in numerous productions across the country.
In addition to his impressive theatrical career, Hale has also found success as a recording artist. He recently relocated to Nashville, where he received a recording engineer certificate from Martina and John McBride's Blackbird Academy.
"I just signed a publishing deal with Extreme Music (the production arm of Sony/ATV Music) with the release of my original debut solo album 'Have A Little Cry,'" says Hale. The album was produced by Mark Rubel and mixed by six-time Grammy Award winner Vance Powell and is currently available on all digital platforms. Hale currently performs in the capacities of an actor, singer and recording artist, bringing shows like 'Hi-Fi Holidays" to audiences across the U.S. and Canada.
"Hi-Fi Holidays" will celebrate the spirit of the season by way of the early icons of rock-n-roll history, such as Elvis Presley, Roy Orbison and Johnny Cash and will also feature timeless heartwarming classics. Throughout the evening, Hale will also share his original Christmas songs.
"'Hi-Fi Holidays' is going to be an absolute riot! It will also be heartfelt, high-energy and full of the holiday spirit," says Hale. "I envision this night feeling like it did when you listened to your favorite classic Christmas songs while decorating the tree or opening an unexpected gift," he continues. "The elements of surprise and delight will be woven throughout."
"It definitely has a nostalgic feel to it, and the songs will be interpreted with the feel of the late '50s and early '60s," shares Hale. "There may also be a few moments where we delve into the deep cuts of traditional Christmas music, and we have a few additional surprises up our sleeves."
Backed by a stellar and nuanced five-piece band from Texas, Georgia, Nashville, and New York, Hale promises a few additional special guests will also appear throughout the evening. "Hi-Fi Holiday" is THE event to kick your holiday spirit into high gear!
Tickets to Ben Hale's "Hi-Fi Holidays" start at $25. For more information, visit rauecenter.org.