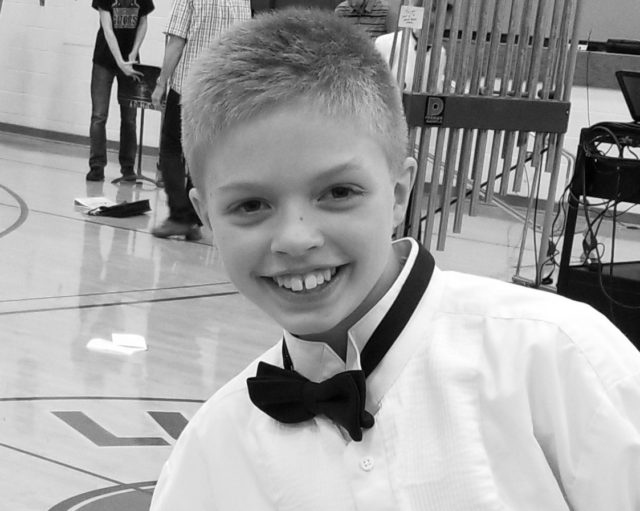 Submitted by Steven Szalaj
Lucian (Luke) Tyndall is a typical seventh-grade boy – active, talkative, funny, at once confident and insecure, and into everything.  He runs on the cross country team. He plays percussion in the band program and participates in school plays. Favorite stage roles include Robertson Ay in Mary Poppins, Drake in Annie and Lumiere in Beauty and the Beast.  He is an active member of his church's youth group. And one more thing: Luke enjoys singing.
Luke is a member of the Chancel Middle School Choir at First Congregational Church (FCC). At FCC, Luke has enjoyed roles in the winter and spring cantata for several years, including the title role in "Welcome Back, Billy Best". He also prepared the role of Amahl and performed selected scenes from "Amahl and the Night Visitors" by Gian Carlo Menotti. He was a featured soloist in Dan Forrest's "Requiem for the Living" with the Vestry Adult Choir.  On November 17, he is the featured soloist in the second movement of Leonard Bernstein's Chichester Psalms. (Full Disclosure: This concert is presented by Voices In Harmony, and the author of this story is its Artistic Director). At Lundahl Middle School, Luke is actively involved in chorus. He was honored to be selected for Fox Valley Honors Choir this year.
One can see that singing is very important to Luke.  He is – for now – a boy soprano. And all this singing has given him experiences far beyond what most boys his age are able to accomplish.  The boy soprano sound is a rarity in America, not that there aren't boy sopranos; all boys are sopranos and altos before their voice starts to change.  Our musical and cultural traditions do not encourage their development. In Europe, boys singing soprano and alto are more accepted, as participation in music at an early age, particularly singing, is more a part of everyday culture.
His background in percussion helps him understand rhythm.  His choral directors, Ann Tucker at FCC and Ms. Mariel Saavedra at Lundahl, have given him good instruction in singing.  While rehearsing Bernstein's Chichester Psalms, Luke has said that he really enjoys learning the music, though "the language is a bit tricky" (it is sung in Hebrew).  He works very hard to "get it right." He will be performing it with harp, organ and the adult community choir, Voices In Harmony. (For more information about this concert, go to http://voices-in-harmony.org/vih-november-concert/).
There is the very real issue looming in Luke's future – his voice will change.  One thing that is different in here than most places in Europe is how we treat the changing voice.  The traditional way is that when the voice begins to change ("when the voice breaks" is the term they use…), the boy should stop singing until the new, lower voice, is formed.  Here – and recent research backs this up – we tend to keep the boys singing through the change, helping them to learn to use their new lower notes as they acquire them. This way also helps them keep the upper range.  When will this all begin? In fact, boys' voices begin to change in about the third or fourth grade, though it is only noticeable to those who are trained to listen for it. The voice continues to get stronger and brighter, until, well, the image used is "a meteor is brightest before it goes burns out."  I suspect Luke will keep singing, and his teachers will help him navigate his changing voice.
It will be fun to see where Luke goes with all of his interests, and what his voice becomes as an adult.
---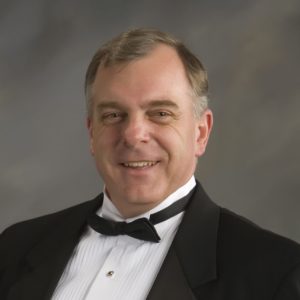 Steven Szalaj
Artistic Director, Voices In Harmony
Adjunct Instructor in Music, McHenry County College
Steven and his family have lived in Crystal Lake since 1978.  He and his wife, Monica, have two married sons, Aaron (Becky) and Christopher (Jennifer), and four granddaughters.  He is currently an adjunct instructor in music at McHenry County College, where he directs the MCC Chorus, teaches voice and other classes.  Upon his retirement in 2007, Mr. Szalaj completed a 34-year career teaching vocal music in the public schools, with the last 27 years at Bernotas Middle School in Crystal Lake. Mr. Szalaj has served as an adjunct instructor in music education at Judson University in Elgin.   For fourteen years he was the choir director at Bethany Lutheran Church (Crystal Lake) and for seven years at St. John The Baptist Catholic Church (Johnsburg).  He holds a B.M.E. from Millikin University, a master's degree in Choral Conducting from Roosevelt University and has completed extensive graduate work with the VoiceCare Network.  Mr. Szalaj was a select member of the Festival Chorus of the Robert Shaw Choral Institute at Carnegie Hall in January 1995.  He has been an active member of the American Choral Directors Association (ACDA) and The Music Educator's National Conference and is currently serving as the Community Choir Repertoire and Standards Chair for the Illinois-ACDA. Mr. Szalaj was the first to receive The Dr. Marie Ann Vos Music Leadership Award by the Board of Trustees of the McHenry County Music Center, for his longtime commitment to choral music in the community. He is the founding Artistic Director of Voices in Harmony, which began in 1987 as the Crystal Lake Community Choir.