Take a musical journey through the life of Elvis Presley beginning with the young rock-a-billy years and ending in the spectacular white jumpsuit era of the '70s with Matt Lewis in the hit tribute "Long Live The King" at Raue Center on August 25!
Lewis began his career as an Elvis tribute artist at the age of 12 and was headlining around the globe with the world-famous "Legends in Concert" show by his 21st birthday! What sparked his interest in Elvis? A karaoke machine and a rock-n-roll tape.
"I believe the song was 'Hound Dog.' I sat and sang it over and over again," Lewis says of that rock-n-roll tape. "My dad introduced me to Elvis and I began imitating him right away. It got me a lot of attention, and for an obnoxious 12-year-old boy, that was good!" Lewis first stepped on stage in the role of Elvis, complete with a handmade costume courtesy of his mother, to perform "Hound Dog" in an eighth-grade talent show. The young Elvis impersonator took home second place.
Paying offers to perform as Elvis soon started rolling in. "I thought, 'if I'm going to do this, I better study Elvis and learn to do it right,'" recalls Lewis. "So, I rented every video of Elvis I could find to watch his live performances."
"It used to take me a long time to get into character. I would sit and listen to his music for an hour or so before the gig and really try to get into that headspace," says Lewis of those early performances. Lewis shares that while The King's singing voice came fairly naturally to him, perfecting Elvis's unique speaking voice and iconic movements were difficult to master in the early years of his career.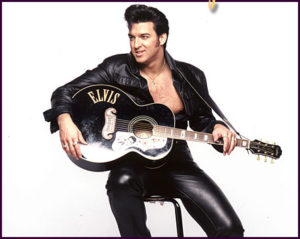 These days, Lewis looks at stepping into The King's shoes like riding a bike or flipping on a light switch.
"Since performing in 'Legends in Concert" for 20-plus years (two shows a night, six days a week), it has become natural to just step into the character very quickly."
Lewis has earned a number of accolades over the course of his long career as an Elvis tribute artist, with numerous publications praising and spotlighting his talents, from a feature on the cover of Las Vegas's "What On" to appearances on several pages of "Entertainment Weekly." He was even named "The Best Elvis in Vegas" by "USA Today." Lewis credits much of his success to the way in which he approaches the art of impersonation.
"Elvis was one of the most charismatic people that ever walked on stage. His charisma was authentic and could reach out and touch the audience. It is important for me to also be able to reach out and touch the audience," he says. "At the forefront of my performance, I want to entertain that audience and leave them feeling better than when they came in. I do that as Elvis, but in a style that allows my charm and charisma to touch the crowd."
Lewis has brought the music of Elvis and his own personal charm and charisma to audiences worldwide, noting that his most memorable experience performing as The King came while performing at a show in Berlin, Germany. There, a producer from Basel, Switzerland who had seen Lewis's performance, offered him the role of Elvis in a musical about his life.
"The craziest thing about it was that I was to learn all my spoken lines in German and I would sing all the songs in English. I thought there was no way I was going to be able to learn all my lines in German. Just for kicks, I asked the producer for twice as much money as I thought they were willing to pay, thinking there was no way he would say yes," says Lewis. "He said yes! The next thing I knew, I was on a plane to Switzerland and doing the show! It was an extremely challenging but rewarding process."
His upcoming show at downtown Crystal Lake's Raue Center also holds a special importance for Lewis, who considers himself "a Midwest boy at heart" despite living in Las Vegas for the past 18 years. Lewis will be backed by some of the best musicians in Vegas for this top-notch production that will leave the audience smiling and singing through the aisles!
"We are going to perform songs from every era of Elvis's career. Get ready! We are gonna shake it up!" exclaims Lewis. "If you sit close enough, you might even get to leave with a scarf around your neck!"
Tickets to "Long Live The King" with Matt Lewis start at $30. For more information, visit rauecenter.org.