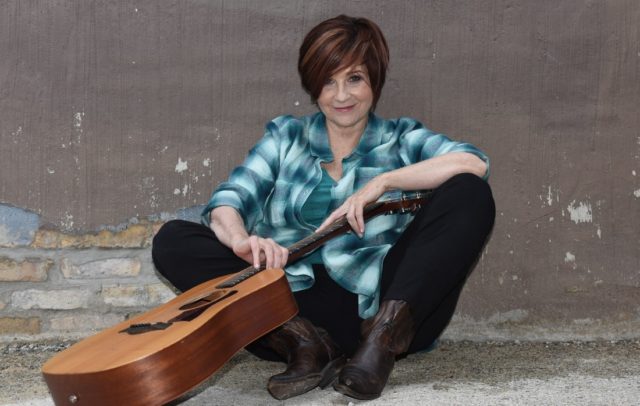 Return to a time of bobby socks, beehives, and bellbottoms! Nationally known singer-songwriter Megon McDonough returns to her hometown of Crystal Lake with her hit tribute, "Dedicated to the Ones I Love: Great Women Singers of the '50s, '60s, and '70s" at Raue Center on August 24!
"I am so excited about performing at Raue Center. I grew up in Crystal Lake and discovered my passion for singing and performing there," says McDonough, who has been performing for more than four decades. "This will be my first time [at Raue Center] solo, and to tell you the truth, I'm more excited about this gig than any other. It's my hometown!"
McDonough explains she "knew in her bones" that she wanted to be a singer-songwriter after watching The Beatles perform on "The Ed Sullivan Show" when she was around 10 years old. It was then that she began writing songs with her childhood friend, performing at neighborhood parties and a coffee house in Cary, IL any and every chance they got.
When her friend moved away, McDonough kept working on her music and became a solo act.  "I started getting gigs! My first one was a steady gig at a beautiful restaurant named Jim Saine's Tralee Farms," she recalls. Her music career continued to grow, and McDonough won first place in the WLS Big Break radio contest, earning the young singer a recording contract with Mercury Records. McDonough recorded a 45 with the label, but as she notes, "the company released me rather than the record, and it was back to the drawing board."
After being released from her label, McDonough was inspired to continue pursuing music by one of the iconic singers she pays tribute to in "Dedicated to the Ones I Love." "I heard a Joni Mitchell record and lightning struck," she says.
McDonough had stayed in touch with Bobbie Monaco, the producer of her single with Mercury Records, and occasionally traveled to Chicago after classes at Crystal Lake Central High School to demo her songs. "When I was in my junior year, he called me to say they were moving the production company to LA, and suggested I move out there and live with him, his wife and their kids while he tried to get me a record deal," she says. "So, when I was 17, I ran away from home with my mother's permission!"
One thing led to another and McDonough soon had a record deal and a spot on a national tour with John Denver. "I played clubs and colleges opening for John and on my own. Then Carnegie Hall and The Greek Theatre," she says. "All very heady stuff for an 18 or 19-year-old from Crystal Lake!"
From self-producing concerts with the CLCHS student council to recording an impressive total of 19 studio albums, the Crystal Lake native has certainly continued to enjoy amazing experiences and tried a little of everything over the last four decades.
McDonough lists her time as a founding member of the girl group The Four Bitchin' Babes, her work with Mary Travers of Peter, Paul and Mary, receiving a compliment on her performance (and a kiss!) from Frank Sinatra and earning a Jefferson Award nomination for her role as Patsy Cline in "Always…. Patsy Cline" at the Northlight Theatre in Skokie, IL as a few of her personal highlights from her long and varied career.  
McDonough is currently touring with "Dedicated to the Ones I Love," which honors the greatest women singers of a generation, including Joni Mitchell, who inspired her to keep following her dreams. The amusing and entertaining show also features hits by icons ranging from Doris Day and Debbie Reynolds to Janis Joplin and Dusty Springfield.   
"I love so many singers, and so many singers have not only inspired me but have paved the way for me and countless girls who ever sang into a hairbrush," she says of the great women singers included in the tribute. "I chose the ones I think people remember and love. That being said, I'm always switching some out to add others…"
McDonough doesn't just sing their songs – she becomes these artists, making you feel as if you are seeing each of them perform live! "I know in my heart any one of the singers I am honoring would love to be up there more than anything – so I invite them," she says. "I think about them, their style, their life, even in a lot of cases, their zodiac sign! Anything to connect us – and play! I want to honor these women and not imitate them, per se. Now, that being said, if I do sound like them – Yay!"
Tickets to "Dedicated to the Ones I Love: Great Women Singers of the '50s, '60s, and '70s" start at $20. For more information, visit rauecenter.org.