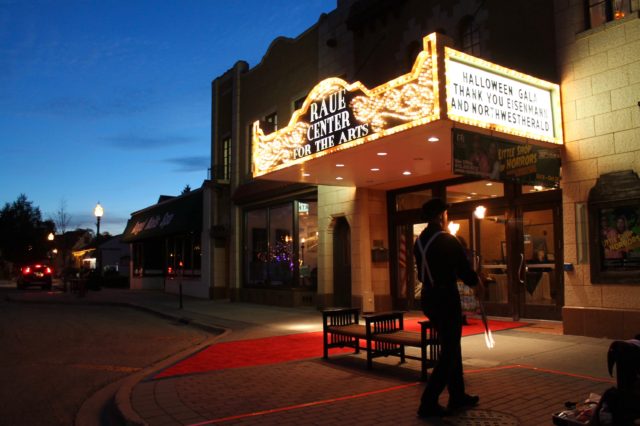 CRYSTAL LAKE, IL – A generous, anonymous donor has paid the $2.3 million debt of Raue Center For The Arts. The $2.3 million was the remainder of an original $8.8 million debt created when the Raue building was renovated in 2002. The debt, and ongoing maintenance on the 90-year old historic building was financially prohibitive. Raue Center is grateful for the gift, which will allow the organization to focus on reformatting programs and expanding educational classes for children and adults.
In addition to debt retirement, the Crystal Lake Civic Center Authority which owns the building, and Home State Bank announced a long-term lease agreement between Home State Bank and Raue Center for the Arts. "We are incredibly grateful to Home State Bank for providing for the Building and ensuring that the Arts have a home for the next 50 – 100 years. I know the former presidents Bill Dwyer, Paula Dorion-Gray, Matt Turk and Chuck Stevens dedicated a lot of time to this project and are thrilled with the outcome." said Tim Paul, Board President of Raue Center for the Arts.
"The donation of $2.3 milion is an endorsement of the Arts. People of this community value the arts and professional theater. The process was challenging, yet everyone collaborated to provide a stable future for Raue Center and Williams Street Repertory," exclaimed Raue Center CEO, Richard Kuranda. "Thank you to everyone involved in the process and thank you to the community for respecting and honoring the contributions of all of the artists that Raue Center welcomes."
Raue Center leadership announced their need for additional funding in November 2017, citing the burden of debt exacerbated by the ongoing maintenance of the building after 2017 flooding. Original efforts were focused on the City of Crystal Lake, but the focus shifted when, an anonymous donor came forward. After much discussion; all parties were able to come together and agree on the new lease terms between Raue Center and Home State Bank.
"Through Home State Bank's philanthropic contributions, the bank has made a long-term commitment to partner with Raue Center," said President and CEO of Home State Bank, Steve Slack. "We recognize that Raue Center provides a great benefit to McHenry County and feel strongly that our investment into this great organization will help them fulfill their mission."
"Crystal Lake is a wonderful community," said Kuranda. "We are proud to be an economic engine and we are so grateful to Mayor Shepley, City Manager Gary Meierhofer, the Civic Center Authority and all our donors who made this a reality. We especially want to thank Home State Bank for standing by us all these years. The collective actions state loudly and clearly that ART matters."
"Raue Center plans include continuing to grow and enhance programs, arts education and community engagement. The improved financial status will allow donor dollars to directly impact programming and arts," said Kuranda. "With these financial constraints alleviated, we are excited for the future of the arts!"