Arts + Community
March 2, 2018
Submitted by Steven Szalaj
CL Central HS Students Shine in Kiss Me, Kate.
We are deep in the high school musical season here, with each week bringing a new production for our local music departments.  The students in these productions put long hours in rehearsal, and outside of rehearsal learning lines, songs, choreography and blocking.  Many have private musical studies on top of their school work.  Clearly, these young people have a passion for this art.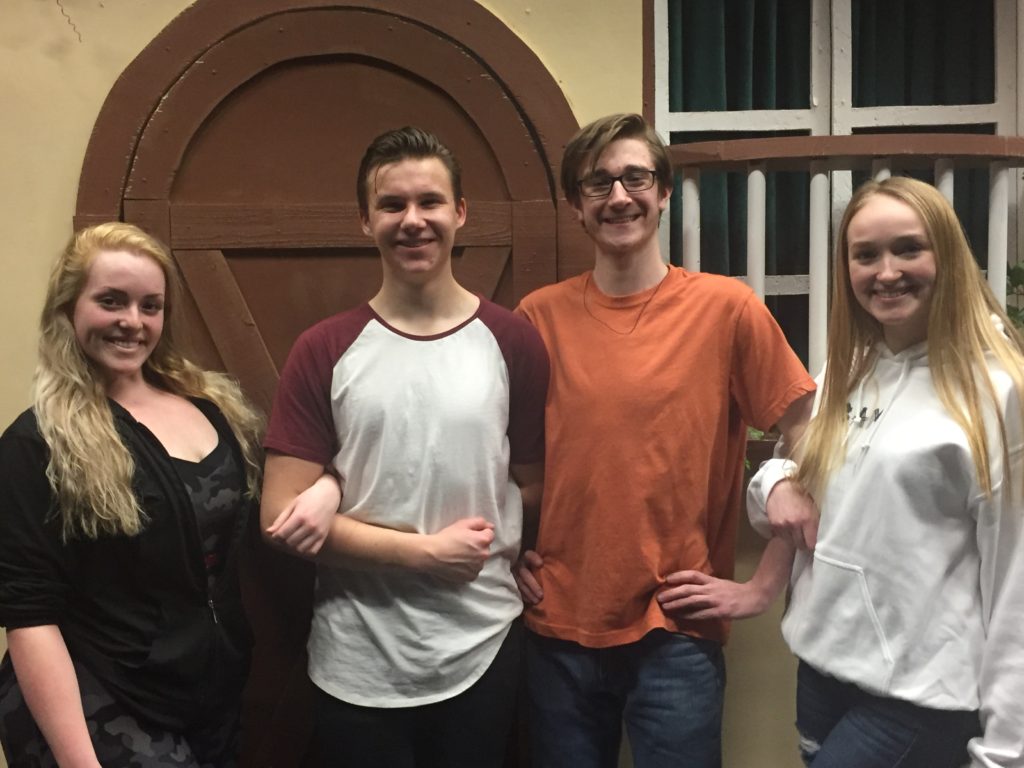 Crystal Lake Central High School's production of the classic Cole Porter musical, Kiss Me, Kate, opens on March 15.  A dazzling Broadway classic that earned the very first Tony award for Best Musical, this show is a "play-within-a-play".  Egotistical leading man, director, and producer Fred Graham is reunited with his ex-wife, Lilli Vanessi, when the two are forced to play opposite one another in a new production of Shakespeare's Taming of the Shrew. The battle of the sexes continues onstage and off, as it becomes clear that, as much as this couple profess to hate each other, they are also still in love.  The great Cole Porter tunes include, "Another Op'nin', Another Show", "So In Love", "Wunderbar" and sidesplittingly funny "Brush Up Your Shakespeare".  CLCHS Choral Director, Kimberly Scherrer, leads the production, and she shared with us about the excellent cast.
Emma Soden plays Lilli/Kate (leads have two characters – one for the musical, and one for the Shakespeare play).  Ms Scherrer says that Emma, a senior, has a mature, advanced voice matched with a great stage presence.  Her more "classical" sound fits this role well.  Emma plans to be a communications major, with a minor in music.
Grace Kinstler is also a senior, and plays Lois/Bianca.  Her voice is a warm and rich "belt" tone. Grace plans to attend the University of California, Berkeley to study performance and musical composition.  Both she and Emma bring a great deal of stage experience to this production.
Matt Wrbanek is a junior, and plays Fred/Petruchio.  He has a strong baritone/tenor voice. Matt plans to continue his schooling in musical theater.
Willem Bracher is a sophomore baritone, and a new lead to the CLCHS stage playing the role of Bill/Lucentio.
Mitchell Dziewior is a senior who plays Paul, a role that involves a significant amount of dance.  His charisma on stage will attract everyone's attention.  Mitchell intends to major in music education.
This show has given Ms. Scherrer and her cast ample opportunity to discuss the plot and character relationships in the context of today's #metoo world.  Lilli is a strong, direct, even abrasive woman, who won't kowtow to her ex-husband's wishes.  Ms. Scherrer said that the famous "spanking scene" had to be very cautiously staged.  Lilli's apparent capitulation in the end of the story is handled in a way that allows her to keep an equal footing with Fred. (The New York Times published a story on on Feb 22, 2018 that dealt with this very topic: The Problem With Broadway Revivals: They Revive Gender Stereotypes, Too", https://nyti.ms/2CdlsNr).
Find the time to see Kiss Me, Kate at Crystal Lake Central High School, or any of the other fine productions at our area high schools.  Here is the performance and ticket information:
WHAT: Kiss Me, Kate by Cole Porter
WHEN: Thursday, March 15 at 7:00 PM
Friday, March 16 at 7:00 PM
Saturday, March 17 at 7:00 PM
Sunday, March 18 at 2:00 PM
*A special Senior Citizen show is free to the public on Wednesday, March 14 at 1:00pm. Dessert will be served after the show. Reservations can be made at 815-459-2505 x200.
Crystal Lake Central High School Auditorium 45 W. Franklin Ave., Crystal Lake
WHERE: Crystal Lake Central High School Auditorium 45 W. Franklin Ave., Crystal Lake TICKETS: $10 each- Available at: www.d155.org/clc
INFO: 815-459-2505 x200 or www.d155.org/clc
CONTACT: Kimberly Scherrer, Producer – 815-459-2505 x276