They're Irish, They're American and They're Not Holding Back!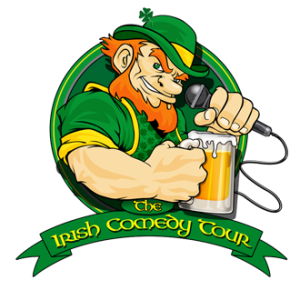 The Irish Comedy Tour takes the party atmosphere of a Dublin pub and combines it with a boisterous, belly-laugh band of hooligans. Kick off St. Patrick's Day celebrations early with shenanigans courtesy of these hilarious Irish-American comedians at Raue Center For The Arts on March 10!   
The clover – make that clever – comedians, whose ancestors hail from the Emerald Isle, include Detroit native Derek Richards, Boston-born Mike McCarthy, Nova Scotia's Damon Leibert and Derrick Keane of the Dublin suburb Inchicore.
McHenry County Arts had the opportunity to talk with Richards, who has appeared on "The Bob & Tom Show," The Weather Channel original series "Top Ten" and can be heard on XM and Sirius Satellite Radio. Audiences howl at Richards' comedy, which reflects his blue-collar Detroit upbringing, with tales his mom's dog, the holidays and dating a stripper.
What can audiences expect from The Irish Comedy Tour?  
Our show is like an Irish pub and a comedy show in a food processor. Imagine rolling all the shenanigans of St. Patrick's Day into one show. It's comedy, it's music… It's just a great, fun show!
What inspired you to create this show and how long has the group been together?
I started the group in 2006 and our current lineup has been in place for six years. I was approached to put together an Irish-themed comedy show for a theatre that a friend of mine owned in Jupiter, Florida. I put together four Irish-American comics and the show was a huge success. So, that started the process, but I wanted something a little different, which is why I added the musical component.  
How has your Irish-American heritage influenced your comedy?
I grew up in a family that enjoyed adult beverages and inappropriate jokes. So, I guess you could say that I inherited both of those traits.
Will non-Irish audiences enjoy this show?
Absolutely! At the end of the day, we're all cut from the same cloth. German, Greek, Italian, Scottish, we all have roots from somewhere. Our show is very relatable to any nationality.
What has been the highlight of performing with The Irish Comedy Tour?
Being able to keep us all out of jail at the same time.
Don't miss Richards and his fellow hooligans as they tear apart as well as validate all of the Irish myths and stereotypes! Tickets start at $25. For more information, visit rauecenter.org.