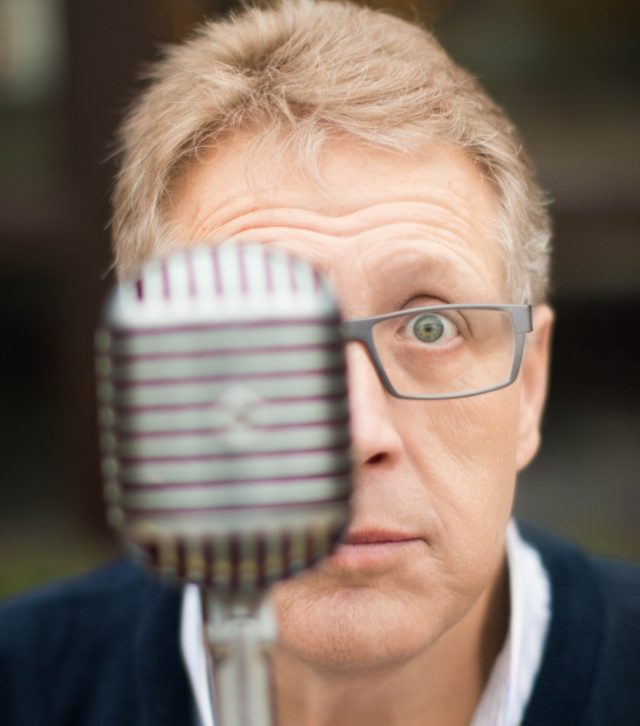 Now in its ninth season and selling out almost every event, Lucy's Comedy Café is one of the longest-running programs at Raue Center For The Arts. This hilarious series has become the cornerstone of Raue Center's comedy programming, featuring amazing regional and national comedians including Dwayne Kennedy, Rocky LaPorte, Patti Vasquez, Mike Preston, Pat Tomasulo, Tim Benker and many more.
The comedy curator behind Lucy's Comedy, John DaCosse, shared the following notes and stories from his long career in stand-up comedy with McHenry County Arts in the first installment of Da Cosse and Effect!:
JD: As Curator (that always makes me laugh) of Lucy's Comedy, I have been asked to write some notes and stories for everyone to read from time to time throughout the year. I am celebrating my 36th year as a professional stand-up comedian, so let's hope I have gathered enough material over the years to make this seem worthwhile.
Let's begin at the beginning… When I choose the talent for Lucy's Comedy, book the comedians and let them know what the performance will pay, I am always reminded of what I was paid for a show when I started doing stand-up.
In 1982, one week after I graduated from college, I auditioned for and was hired on-the-spot to perform for the Comedy Cottage in Rosemont. I could not believe it! They handed me a blue sheet of paper with small print and general information. (It could have said "you will immediately be brought into the back room to have a random organ removed for our personal use" and I would have signed!) All I knew was, "I AM A PAID PROFESSIONAL STAND-UP COMEDIAN!"
That blue sheet allowed me to call every Tuesday and book as many 10-minute spots as they were willing to give me for the following week of six days and eight shows. My first Tuesday, I was given six spots and I would be paid the following week a cash total of–get ready–$12. That's $2 per show! 
I can't help but think that when I headline one show at Lucy's Comedy, I earn what would have been half my salary in 1982! The funny thing is, when I was starting out at $2 a show, I actually might have been OVERPAID!
Stand-up fans can next enjoy Da Cosse's work as curator with Lucy's Comedy featuring headliner Kent Radner, comedian Dame Grant and host Tim Benker on March 2. Tickets are $20 in advance or $25 at the door. Da Cosse himself will take Raue Center's stage for An Evening with Steve Cochran & Friends on March 24. Tickets start at $25. For more information, visit rauecenter.org.