Come celebrate Valentine's Day with 700 of your closest friends at Raue Center For The Arts! Kevin Bozeman takes the stage on February 17 for a hilarious Valentine's Comedy Show with co-headliner Rachel Bradley.
Bozeman began his career in stand-up comedy in 1999, inspired by watching "Def Comedy Jam" and challenged by his roommate to perform at an open-mic night. Nearly two decades later, Bozeman is still onstage, entertaining audiences across the country.
McHenry County Arts had the chance to chat with the comedian known for his smooth and clever style, great smile and contagious laugh about his career and the upcoming show at downtown Crystal Lake's Raue Center.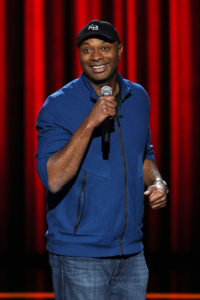 What inspired you to pursue a career in comedy?
Stand-up comedy is just in you. When it comes calling you have to answer.
What comedians have had the biggest influence on your career?
I generally like the comics who are great at their style of comedy. Dave Attell, Dave Chapelle, Jerry Seinfeld, Chris Rock, etc.
How has your material evolved over the years?
Before I was just about telling jokes. As I've gotten older, I like to talk about things with more substance with a strong point of view.
You appeared as a semi-finalist on season 9 of NBC's "Last Comic Standing" in 2015.  How has being on the show impacted your career?
Doing shows like "Last Comic Standing"  is more of a validation than anything. It's a stamp of approval.
You are co-headlining a Valentine's Comedy Show with Rachel Bradley at Raue Center. Are you a fan of Valentine's Day?
I'm a fan of anything that brings people to see stand-up comedy. So, yes, I love Valentine's Day!
The Valentine's Comedy Show featuring Kevin Bozeman and Rachel Bradley is a can't-miss evening of love and laughter! Tickets start at $20. For more information, visit rauecenter.org.