Kick off 2018 with a musical blast from the past! Award-winning Beatles tribute American English returns to Raue Center For The Arts for another look into the Beatles' vast history book on January 6!
"I believe American English has been performing at Raue Center for over 12 years," says drummer Tom Gable (Ringo Starr). "Raue Center usually asks us to do a special show for their audience – featured albums, a certain era – which we totally love doing! It's a great challenge for the band to pull off different shows like that. We totally get into it!"
The twist this time around? Double Fantasy Album Night.
During the first of two sets, American English will perform the first Beatles' album released. Fans will experience all the raucous guitars, drums, bass and harmonica that create classics like "Love Me Do," "There's A Place" and "Twist & Shout" as American English performs the UK edition of "Please Please Me" in its entirety!
The second half of the show will take the audience through The Beatles' sixth studio album. Fans will feel the magic of the album that marked a turning point in the band's skyrocketing career, with unforgettable songs like "Nowhere Man," "Girl," "In My Life" and "Michelle," as American English performs "Rubber Soul."
This one night only experience will bring two revolutionary Beatles' albums to life with the attention to every musical detail, costume changes, vintage instruments and special effects that have earned American English a reputation as the best Beatles tribute of our time.
American English won a sound-alike contest at Beatlefest® for three consecutive years, was voted Best Beatles Tribute Band in the 2011 Chicago Rocker Awards and won Best Tribute Band three of the last four years in the Chicagoland area. The band was also named Illinois Entertainer of the Year.
"American English has had huge success throughout the years! There have been quite a few memorable moments for all of us," Gable shares. "Being invited to not only visit, but record music in Abbey Road Studios is definitely high up on the list! I mean, you can imagine our excitement!" Also among the band's most memorable moments include performing across the United States and abroad in Japan, Australia, England and Guam, to name a few.
Gable attributes much of their success as a Beatles tribute to the level of artistry involved in American English. "We feel our level of musicianship is capable of reproducing the Beatles' music." He also shares the current cast of American English is "the strongest, most accurate and dedicated lineup" the band has seen in its 20+ years.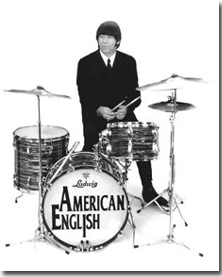 "After this long, getting into character comes naturally. But in the beginning, it was a lot of watching films, concert footage, listening to interviews," says Gable. "You try to recreate the stance, head movements, singing, musical characteristics and whatever you can pick up on to reproduce that character in front of an audience! It's ongoing research, in a sense."
There is also a bit of magic involved.
"Our natural spirit and love for this music seems to transcend into the audience. The overall reaction of crowds all over the world is always consistent. There is something that happens that we ourselves can't explain," he shares. "We believe it's because of our love and devotion to playing this music for everyone and doing our part to keep some of the finest music ever written alive!"
With performances and fans all over the world, the Chicagoland-based American English still finds itself drawn to downtown Crystal Lake after over 12 years of performing there.
"We are very excited to be performing at Raue Center. It is a very upscale theater, but that is just part of the reason," says Gable. "It's the people there. The whole staff is a great group of passionate people, trying their best to present entertainment every week! It's not easy putting a show on… and they make it happen every time!"
"Crystal Lake theatergoers are another huge part of our desire to perform there! The people of Crystal Lake and surrounding areas are what makes these shows so much fun to perform year after year," says Gable. "Their enthusiasm for The Beatles is very strong and our shows at Raue Center are usually sold out! That tells us that recreating Beatles' music for our fans in Crystal Lake is very much appreciated. And at that point, it's not just Beatles' fans in the theater, but American English fans, and we embrace every one of them and always will!"
Double Fantasy Album Night with American English is a must-see for Beatles' fans old and new alike! Tickets start at $20. For more information, visit rauecenter.org.