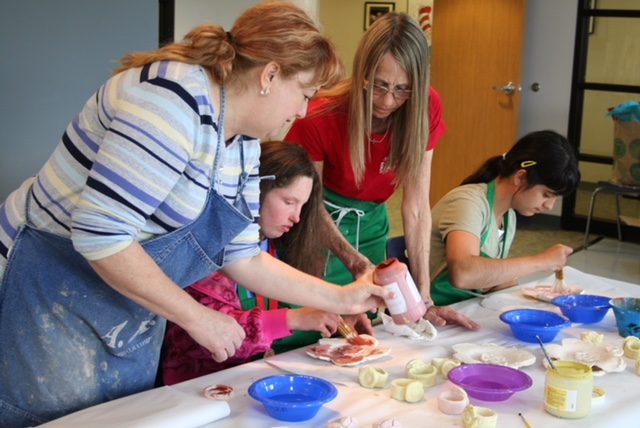 Northern Illinois Special Recreation Association (NISRA) located in Crystal Lake, IL, might not be the first place you think of when it comes to the arts in McHenry County, but what they are offering to their participants will change that.
NISRA offers a unique experience for individuals with disabilities of all ages to participate in recreational programs.  Program adaptations are available to accommodate physical limitation, especially in adapted sports and fitness programs. Many of their programs aim to encourage socialization and foster independence.
Like many recreation programs, sports and fitness programs seem to warrant the most attention, what NISRA offers in the way of cultural arts is nothing short of amazing.  I had the opportunity to sit down with Emily Todd, Manager of Cultural Arts and Adult Day Programs at NISRA and was immediately taken with her warm personality and passion for bringing the arts to their participants.  Apparently, I'm not the only one who has recognizes Todd's love and dedication to these programs.  Just hours after meeting with her, she received the Professional of the Year Award from the Illinois Therapeutic Recreation Section (ITRS) of the Illinois Park and Recreation Association. According to Sarah Holcombe, Manager of Communications and Marketing, Emily received the honor in the presence of over 200 of her special recreation colleagues at the ITRS Annual Meeting on January 18, 2018. "Her work developing NISRA's cultural arts and adult day program has been and continues to be exceptional."
NISRA utilizes area park districts to bring their programs to communities in McHenry, Cook and Kane Counties as well as programs they offer at their facility in Crystal Lake. Their extensive offerings include both performance and visual arts.  Their performance art programs include choirs, private music lessons, and dance classes, all of which have recitals where participants can show off their talents.

Also included in their performing arts program is a theater program that culminates in an annual musical held each Fall at the Cosman Theater at the Huntley Park District.  This opportunity gives participants the confidence to get up on stage and perform in front of packed audiences. In the past, they have put on such productions as Elf Jr., Little Mermaid Jr., and Shrek Jr.  The participants do the entire performance on their own. They impress upon them the importance of everyone on the cast and crew playing a role in the production; The show is not possible without those involved both on and off-stage.
"We tell them to try your best, and your best is enough." Todd went to explain that they have a great deal of cross-over from sports programs to the arts.  "Our goal to improve their emotional and mental health."
Visual arts offerings give participants a wide-variety of genres available to them.  NISRA aims to provide not only continuity in programming across the various park districts but also hires trained artists to ensure top-quality instruction.   "They are learning from experts and not only to participants benefit, but the instructors love the unique experience that allows them to fine-tune their skills teaching to a variety of abilities," Todd revealed.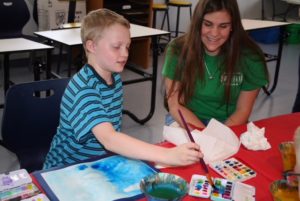 NISRA offers general art, clay, drawing, jewelry, scrapbooking and recycled art. The Sage Therapeutic Recreation Center Art Studio at the facility in Crystal Lake includes a pottery wheel and kiln and has recently offered a fused glass workshop.  Their workshops allow participants to get a "taste of" various mediums without committing to a specific class.  "It is cool to offer new and different things and give them as much exposure to the arts as possible."  Todd went on to explain their newest concept that allows for partner workshops allowing parents, siblings, and friends to join in as well as events similar to painting parties.
NISRA exhibits the art completed in their programs in the Sage Studio, at McHenry County College and the Association for Individual Development in Elgin.
"Art is such a fluid activity and teaches students that even if something isn't turning out, they can change it and learn to compromise,"  Todd explained. "Our goal is to offer a welcoming community of artists and encourage all to give it at least a try."
For more info visit nisra.org
---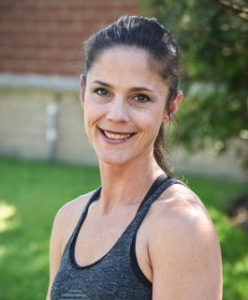 Michelle Stien is a freelance writer with close ties to the Crystal Lake Community. She has been involved with the Raue Center for the Arts since 2004 while she worked at the Northwest Herald in the advertising department.  While at the Northwest Herald Michelle was active with the Crystal Lake Chamber of Commerce and as a result, became a member of the Bob Blazier Run for the Arts 5k Committee and has been a member of the committee ever since.  She is also a committee member for the McHenry County Patriot Run, Kiwanis Santa Run for the Kids and Race Coordinator for the Girls on the Run Northwest Illinois 5k. She also recently joined the Raue Center's Gala Committee.