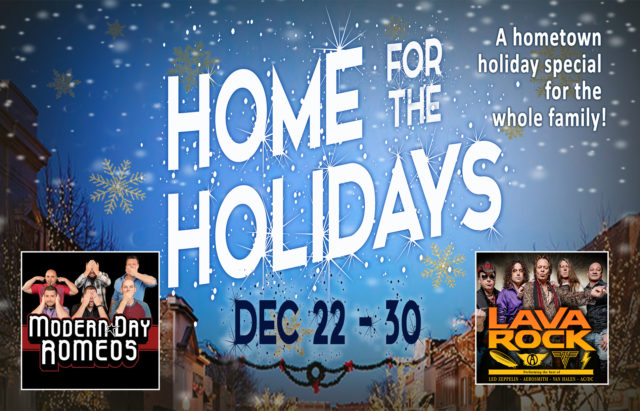 CELEBRATE THE SPIRIT OF THE SEASON! Bring the whole family together and celebrate the holidays with Raue Center For The Arts and members of their professional in-house theatre company, Williams Street Repertory, during their fun, family-friendly and festive show! "Home for the Holidays" opens on December 22.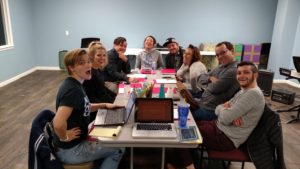 Harkening back to the holiday TV specials of your childhood, Raue Center employees Lindsay Wolf and Caitlin Quinn teamed up with composer Evan Swanson to create a holiday special just for Crystal Lake! Join Raue Center and WSRep for a festive evening filled with storytelling, holiday traditions, and songs.
When asked how the holiday special first came about, the co-producers/directors share it actually began as a joke within the production department. "We started talking about what we would call a holiday show if we were ever to produce one," shares Quinn. "We came up with so many silly holiday names, and then Lindsay [Wolf] said – 'why don't we try to make this happen?'"
"We have been doing full-on holiday musicals in the November – December time slot for the past couple years and we have a completely full docket of wonderful programming," says Wolf. "We wanted something that was low-tech while still providing a full range of holiday appeal to the community."
The creative team behind "Home for the Holidays" knew early on in the creation of the holiday special that they wanted to highlight the wide variety of talents Raue Center and Crystal Lake have to offer. "We do so many things at Raue Center and we wanted to really bring that idea to this show," says Wolf.
"Home for the Holidays" incorporates all aspects of Raue Center's programming, with personal holiday stories from WSRep favorites including Joel Bennett, Amanda Flahive, Jillie Mayer, Tina Naponelli, Billy Seger and Thomas Squires, laughs from the WSRep Comedy Troupe and performances by students from the Sage Studio arts education program.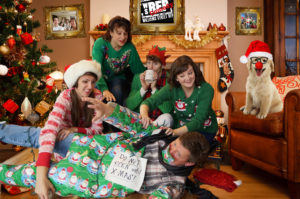 In addition to Raue Center favorites, "Home for the Holidays" will also feature two of Crystal Lake's hottest bands, with new renditions of old favorites from special guests, Modern Day Romeos and LAVA Rock!
"We have a little bit of everything for any member of the family," says Wolf. "We have music, comedy, storytelling and skits. No matter what you enjoy watching, you will find it in this show."
In addition to showcasing the wide variety of talent, the Crystal Lake community has to offer, the creative also strived to showcase all aspects of the holiday season, good and bad. "The holidays are happy, joyful and full of family, but they are also stressful, busy and sad," says Wolf. "We wanted to include stories about all sides of the holidays."
"This is a fun and fulfilling show that doesn't shy away from the hard topics, but allows everyone to find their own joy and peace during the holiday season," adds Quinn. "We wanted to show some holiday realness and some holiday fun."
While working to create a holiday-themed variety show featuring a large cast and a wide variety of content and style has been challenging at times, Wolf and Quinn share that the experience has been amazing, thanks to the people involved.
"We have been met with so much joy, passion, acceptance and creativity in building this show," says Quinn. "It amazes me that everyone has just jumped on board and said yes. We're all having so much fun working on this project."
"The cast works beautifully together and they are so respectful of each other and the work we are doing. Both bands are over the moon about the show and are willing to do whatever we need," says Wolf. "Everyone is so excited to be involved in the show and can't wait to see it all come together."

Raue Center and WSRep invite everyone to join them in celebrating the ups and downs of this crazy holiday season with their fun, honest, touching and silly holiday-themed variety show. "Home for the Holidays" opens on December 22 and runs select dates through December 30.
Tickets are $35.50 with a $6 student price and special rates for groups of 10 or more. For student tickets and group rates, call the Raue Center Box Office at 815-356-9212. For more information, visit rauecenter.org.