Arts + Community
Submitted by Steven Szalaj
October 17, 2017
It is worth looking at what is happening in our middle school music programs.  This is where young hearts are won to music, probably for the rest of their lives.  I've asked Carol Munn, the music teacher and chorus director at McHenry Middle School, to share some things about the chorus program at her school.
On September 30th choir students traveled to Chicago to work with VanderCook Choir Director, Dr. Sinclair.  They spent the day learning singing techniques and working on music that focused on the value of choral singing in our community.
Students from McHenry Middle School will perform an honor level choral concert with the Fox Valley Conference Middle Schools on October 24th at Cary Jr. High.  Dave Jensen, the choral director a Prairie Ridge High School will be the guest director.
Students will represent McHenry Middle School as part of the Illinois Music Educators Association District 7 Festival on Saturday, November 5th.  Leslie Manfredo of Illinois State University will be the guest director.
Eighth-grade student Emily Bucaro says this about her chorus:
"In my opinion, chorus is a class where I can express my voice and feel free. I love choir and feel like I should keep doing it for a long time. I hope I can be a songwriter and singer when I grow up. I would never give chorus up. People come to choir to show what they can do and express their voice. That's why I joined choir.
Chorus songs make you feel like you can do anything and calm inside like when we sing Panis Angelicus. Choir is again a place where you can express how you feel by singing in a bunch of different songs, either exciting or calm. If you are having a bad day, you should look forward to choir and be excited to sing all of your favorite songs. I love choir and hope to keep singing until the last day I'm in high school."
One of the outstanding musicians is eighth-grader Katrina Cronin. Kate will be the MMS student piano accompanist at the Fall Choral Concert on November 15th.  She has been taking piano lessons for 6 years from local McHenry piano teacher, Jackie Murray.
Upcoming performances for McHenry Middle School
•November 15th @ 7:00pm–Fall Band & Chorus Concert
•December 2nd @ 10:30am–Christmas Caroling
at McHenry Craft Show @ Parkland Middle School
•December 5th @ 7:00pm–Winter Band & Chorus Concert
It is really wonderful to see these young people getting such a great start into the world of music!
---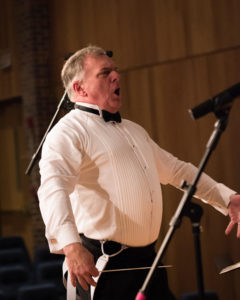 Steven Szalaj
Artistic Director, Voices In Harmony
Adjunct Instructor in Music, McHenry County College
Steven and his family have lived in Crystal Lake since 1978.  He and his wife, Monica, have two married sons, Aaron (Becky) and Christopher (Jennifer), and four granddaughters.  He is currently an adjunct instructor in music at McHenry County College, where he directs the MCC Chorus, teaches voice and other classes.  Upon his retirement in 2007, Mr. Szalaj completed a 34-year career teaching vocal music in the public schools, with the last 27 years at Bernotas Middle School in Crystal Lake. Mr. Szalaj has served as an adjunct instructor in music education at Judson University in Elgin.   For fourteen years he was the choir director at Bethany Lutheran Church (Crystal Lake) and for seven years at St. John The Baptist Catholic Church (Johnsburg).  He holds a B.M.E. from Millikin University, a master's degree in Choral Conducting from Roosevelt University and has completed extensive graduate work with the VoiceCare Network.  Mr. Szalaj was a select member of the Festival Chorus of the Robert Shaw Choral Institute at Carnegie Hall in January 1995.  He has been an active member of the American Choral Directors Association (ACDA) and The Music Educator's National Conference and is currently serving as the Community Choir Repertoire and Standards Chair for the Illinois-ACDA. Mr. Szalaj was the first to receive The Dr. Marie Ann Vos Music Leadership Award by the Board of Trustees of the McHenry County Music Center, for his longtime commitment to choral music in the community. He is the founding Artistic Director of Voices in Harmony, which began in 1987 as the Crystal Lake Community Choir.