Arts + Community
Submitted by Steven Szalaj
October 20, 2017
There are opportunities for fine musical experiences in McHenry County outside of school as well.  ENCORE YOUTH CHOIR is a fine program that helps young singers grow into mature musicians.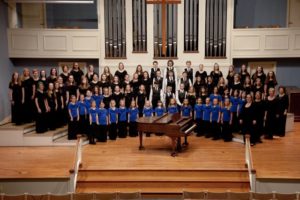 The ENCORE YOUTH CHOIR (EYC) is a flagship program of the ENCORE MUSIC ACADEMY located in Crystal Lake and founded in 2005. Auditions are held throughout the year for interested singers age 7-18 and students are placed in one of Encore's four levels of choirs. As students progress through the program, they are given the opportunity to join EYC's Touring Choir. This is an experience of a lifetime! Over the past twelve years, the Encore Touring Choir has performed in National Children's Choir Festivals at Carnegie Hall in New York City (2009), St. Louis Cathedral in New Orleans (2012) and Orchestra Hall in Chicago (2013). They have completed three international solo tours to Italy (2007), England (2010) and Austria and the Czech Republic (2014). Most recently, the choir traveled to Seattle, WA and Eugene, OR to participate in the Pacific International Choral Festival (2016). For more information or to schedule an audition, call 815.356.SING (7464) or visit the Encore Music Academy website at www.encoremusicacademy.org.
•TOGETHER WE STAND
Sunday, October 28, 2017 @ 7 PM
First Congregational Church
Encore Youth Choir is excited to announce their first concert of the 2017-2018 season "Together We Stand" at 7pm on October 28, 2017, at First Congregational Church in Crystal Lake, IL. Come enjoy an evening of incredible music performed by these talented and dedicated students who come from all across Northwest Illinois to sing and make music together. Directed by Ann Tucker (Crystal Lake), Carol Munn (McHenry) and Alison Rohrbach (Cary) and accompanied by Jo Ann Black (West Dundee) and Sherry Taliaferro (Crystal Lake), the concert will feature music about how children can shape the future, and if we find a way to stand together, all of us in unity, we will ultimately be stronger for it. Uplifting and inspiring – sure to be a great event for families, the concert is free to children and youth 18 and under with a paid adult.
First Congregational Church is handicap accessible and the public is invited to attend. Tickets are available online through EMA's store www.shop.encoremusicacademy.org, via phone 815.356.SING (7464) or at the door. $15/adults, $10/seniors 65+, Children 18 and under are free with paying adult.
Just another of the incredible opportunities in the arts!
---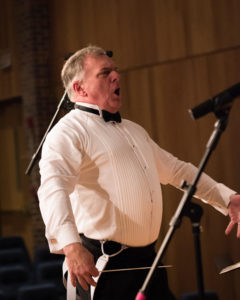 Steven Szalaj
Artistic Director, Voices In Harmony
Adjunct Instructor in Music, McHenry County College
Steven and his family have lived in Crystal Lake since 1978.  He and his wife, Monica, have two married sons, Aaron (Becky) and Christopher (Jennifer), and four granddaughters.  He is currently an adjunct instructor in music at McHenry County College, where he directs the MCC Chorus, teaches voice and other classes.  Upon his retirement in 2007, Mr. Szalaj completed a 34-year career teaching vocal music in the public schools, with the last 27 years at Bernotas Middle School in Crystal Lake. Mr. Szalaj has served as an adjunct instructor in music education at Judson University in Elgin.   For fourteen years he was the choir director at Bethany Lutheran Church (Crystal Lake) and for seven years at St. John The Baptist Catholic Church (Johnsburg).  He holds a B.M.E. from Millikin University, a master's degree in Choral Conducting from Roosevelt University and has completed extensive graduate work with the VoiceCare Network.  Mr. Szalaj was a select member of the Festival Chorus of the Robert Shaw Choral Institute at Carnegie Hall in January 1995.  He has been an active member of the American Choral Directors Association (ACDA) and The Music Educator's National Conference and is currently serving as the Community Choir Repertoire and Standards Chair for the Illinois-ACDA. Mr. Szalaj was the first to receive The Dr. Marie Ann Vos Music Leadership Award by the Board of Trustees of the McHenry County Music Center, for his longtime commitment to choral music in the community. He is the founding Artistic Director of Voices in Harmony, which began in 1987 as the Crystal Lake Community Choir.