An interview with co-producers Glenn Chelius and Nino Cruz.
Tell us about yourselves…what's your background and how did you get into magic?
Glenn: I'm 52 years old and have lived in Crystal Lake with my wife Michelle and 3 kids – Celine 20, Cole 18 and Christian 16 for 23 years.
I have always had a love for the arts primarily drawing, theater and magic.  I used to love watching magicians on tv as a kid.  The Bozo Show was a regular kid show that would frequently have guest magicians perform as well as Wizzo The Wacky Wizard (aka Marshall Brodien), a member of the Bozo cast.  I received a magic kit for Christmas when I was 6 years old and that's really when "I got the bug" as they say.
Nino:I grew up in Logan Square Chicago and dabbled with magic tricks after my father taught me a simple card trick around age 8. Since I was grounded a lot and sent to my room, I finally opened up that Marshall Brodien Magic kit and TV Magic Cards I received as a Christmas Gift under my bed, and glad I did. I later appeared on a children's television show in 1981 at age 14, and after watching myself on TV- I was hooked!
Unlike now, with online learning of tricks such as YouTube, in the 1980's you had to read magic books from the library, trick shops or as I did, from mail order from the Marshall Brodien Magic Catalog Co.
As a semi-pro, I performed for birthday parties and school shows thought my teens but never thought I could make a real living at it, and still pursued my commercial art degree and was an apprentice sign painter. I still performed on the side and opened my own sign shop since then and still own it to this day.
I married my grammar school sweetheart Sandra in 1988 and moved to Barrington Hills, IL. We started a family of 1 son and 2 daughters hoping eventually one of them would want to be a magician. A bummer it but didn't happen, so I gave magic lessons to youngsters while living in McHenry, IL. My prized student is Joe Wonrade at age 11 aka Joe Diamond, I'm and proud how he stayed with it. We gave him a start in our show and are still great friends.
I currently reside in Lake Geneva, WI and my specialty is what I call "Mind Magic," a combination of  Mind Reading, Telekinesis and Comedy Hypnotism, which I'm grateful to still have the longest running magic variety show in Wisconsin at the old Playboy Club, now The Grand Geneva Resort & Spa (Lake Geneva) every Saturday at 8pm. I was also amazed how my local newspaper dubbed me "The Harry Houdini of  Lake Geneva!"
What inspired the inception of "Nothin' Up My Sleeve"?
Glenn: 20 years ago while strolling our newborn daughter in downtown Crystal Lake I spotted what is now Raue Center For The Arts.  We stopped in to see what the large thermometer banner in the window was for.  The volunteers explained that money was being raised to open a community art center.  I thought perfect!  Sign me up!
My first project was designing logo's for the Board to review and approve.  The family of 3 reaching for stars was a winner.  My next project was the 4th of July parade float.  I enlisted my neighbor friends to help with the build and we all had such a good time it became a tradition every year for 12 years.
My dream had always been from the beginning to host a magic benefit show for the Raue and once it officially opened we got to work.  I read about Nino Cruz and his magic in the paper and called him to see if he would be interested in producing a magic show with me.  He was.
We were fortunate enough to recruit none other than the legendary Master Magician – Marshall Brodien (yes the very man I watched on tv as a kid) to host our show.  Now having a big name like his associated with the show we were able to quickly build a remarkably talented cast.  
Nino:I got a phone call from Glenn around 2000 explaining his involvement with the Raue theater and a benefit magic show concept. We clicked and have been friends and business partners ever since.
One of our adventures during the theater plans was asking Glenn if he would like to partner up in a local Comcast cable television  project we called "The TV Magic Show." We had fun with new ideas and combined them with our Nothin Up My Sleeve shows. It's ironic how we featured Svengoolie and world-famous Marshall Brodien on our TV show and will again this year.
How has this magic variety show and fundraiser evolved over the last 15 years?
Glenn: We have had a great run so far and lot's of fun bringing new magic acts and variety acts to the Raue.  Over the years we have had plate spinners, jugglers, fire eaters, bubble blowers, contortionists, dancers, ventriloquists, musicians, mind readers, clowns, illusionists and yes many magicians.  
Nino:Our show first evolved with us brainstorming not only who we can feature in the show, but what excitement would create a following?
That's when we thought about featuring Marshal Brodien, who is famous for inspiring countless of upcoming magicians around the globe including  David Copperfield, Lance Burton in Las Vegas and others with his Magic Cards and sets – and we did!
He was a superb hypnotist I grew up admiring on TV and for the character he played: The Wacky Wizard "Wizzo" from WGN Chicago's Bozo Circus. Our first few years consisted of a matinee and evening show with him, and became a sell-out success!
That's when we said: "If we keep thinking this way, this could be an annual event!"  We stuck to that structure and it's been successful ever since.
What are some of the challenges you face in mounting the show every year?  What special guests have been the most memorable?
Glenn: Our biggest challenge has been trying to present something spectacular for all ages to enjoy year after year.  We typically start the process the day after the show.  
3 years ago we secured Ronald McDonald to be in our show and also perform magic. That was really cool.  Another famous clown we secured was Bozo The Clown.  Many of our magicians have gone on to be recognized on AGT, Masters of Magic, The Illusionists and Penn & Teller's Fool Us.
Last year we tossed around a Star Wars theme as people of all ages are following Star Wars. This was a fun challenge.  We asked each act to put a Star Wars spin on their act, which they did.  We also asked the kids in the audience to dress in Star Wars costumes which they did.  We were able to have Storm Troopers, Jedi Knights and even R2D2 be part of the show.
Nino:Glenn and I share crazy ideas. For instance, we wanted to add excitement and suspense like vaudeville magicians would do in the 1920's. We thought: "What if we drove a car blindfolded through downtown Crystal Lake?" How about a Houdini straight jacket escape? "But what if we also did it upside down suspended from the theater's ceiling?  (which by the way is 2 stories high!) And we did. Well, I was the nut who did while Glenn swung me around the heads of the audience by a rope attached to my legs … that freaked everyone out.
From how can we produce famous guests from new illusions to what current event or holiday theme would make sense. That's when featured characters appeared. Bozo the Clown, Wizzo, Brodien Sr. and his son Marshall Jr., Ronald McDonald, family friendly Side Show Acts, Award-winning TV magicians, jugglers, ventriloquists …and last year's Star Wars theme with characters that included a real R2-D2 robot that moved!
And not just big names, but giving young local performers a chance to participate. This caught the town's attention wanting to see someone they know personally participating in this beautiful theater.
What do you think it is about this show that keeps audiences coming back? How do you manage to keep it fresh and fun?
Nino: I believe an audience comes back for good old-fashioned live entertainment like Broadway plays, concerts and opera. If you have a limited one day only show packed with surprises and thrills with a Vegas-like atmosphere at an affordable ticket cost, why not?
My thoughts are, you can always watch TV, Netflix, rent a DVD . . . or spend an arm and leg going to the movies. So why not have a more memorable experience and take advantage spending less on a real live show and enjoy fun family time helping a good cause?
Glenn: I think the reason we have had such a great following year after year is that it's LIVE family-friendly entertainment at a reasonable price that benefits the arts.  Live is better than any YouTube video.  At Nothin' Up My Sleeve you never know what's going to happen to next.  You might even find yourself standing on stage being part of the show.
This year's "Nothin' Up My Sleeve" features a Halloween vaudeville theme. What tricks and treats can audiences expect from this spooktacular show?
Nino: Now revealing what's in store for audience members this year is a semi-secret, (he laughs) but what I can tell you is adults will be able to escape the hustle and bustle of the now and fall back in time with memories and crazy antic magic of Wizzo and Svengoolie!
Glenn: We immediately knew who we needed to be part of the show – Svengoolie!  
Nino: …with a vintage atmosphere of classic horror clips!
Glenn: We also have illusionist Steve Chezaday, magician Marshall Brodien Jr. along with his pal Wizzo The Wacky Wizard, magician Trent James, magician Mark Presley and the funny acrobatic artistry of Charlie Chaplin aka BJ Macias.      
Nino: And Glenn and I as your emcees performing comedy magic bits in between acts! It's gonna be a great show!
---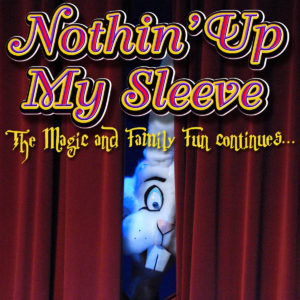 Nothin' Up My Sleeve: Halloween Magic
performs November 4, 2017 @ 7p at Raue Center for the Arts.