Jim Belushi was born in Chicago on June 15th, 1954 and was raised in the Western Chicago suburb Wheaton, Illinois. Jim's passion for live performance began at Wheaton Central High School where auditioned for the school play. He got so much enjoyment out of the experience he then joined the school's drama club and choir. After High School he attended College of DuPage eventually transferring to Southern Illinois University where he earned a degree in Speech and Theatre Arts. After graduating college Jim joined the renowned improv comedy troupe, Second City. This would eventually lead to his first television roles in "Who's Watching the Kids" and "Working Stiffs."
Eventually, inspired to carry on the legacy of his older brother John Belushi, famous for his stint as part of the original Saturday Night Live cast and his starring role in the "Blues Brothers," Jim joined the Saturday Night Live cast in 1983. Audiences fell in love with his impersonations of Hulk Hogan and Arnold Schwarzenegger. This eventually led to his supporting role in the movie About Last Night which propelled him to national fame. In more recent years he has starred in the title role of his own sitcom "According to Jim".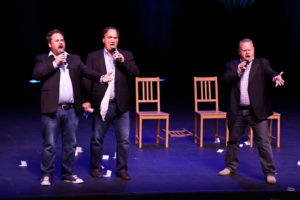 Jim Belushi and the Board of Comedy return to Crystal Lake's Raue Center For The Art on September 22, 2017. For tickets visit www.rauecenter.org.